The Home of Anthony Nappa Wines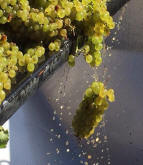 Anthony Nappa Wines was established in 2007 by Winemaker Anthony Nappa and Chef Sarah Evans Nappa with the production of 200 cases of Long Island Pinot Noir.
We craft premium wines representing New York's unique climates and soils. Based on the North Fork of Long Island, the grapes that grow in our maritime climate lend themselves to producing distinctive wines. Also, highlighting the best of the Finger Lakes region we work with upstate growers, sourcing fruit.
Combining new world technology and old world traditions we focus on accentuating the full expression of the wine grown in this place. We make wines with minimal additives and manipulation, unadulterated and straightforward, with honest marketing and labeling to allow our wines to shine their best on their own.
Salute!!
Retail
Anthony Nappa Wines are currently available for tasting and purchase at our tasting room
The Winemaker Studio
2885 Peconic Lane
Peconic NY 11958
774-641-7488
Wholesale & Distribution
For all Wholesale pricing and information contact us at
info@anthonynappawines.com, or call 774-641-7488.
In New York we are distributed through Massanois
The best number to call is: 914-722-9100 or toll free - 1-888-242-1342
Massanois, LLC
443 Park Ave South, Suite 700
New York, NY 10016
www.massanois.com
In New Jersey we are distributed through Massanois
The best number to call is: 914-722-9100 or toll free - 1-888-242-1342
Massanois, LLC
443 Park Ave South, Suite 700
New York, NY 10016
www.massanois.com
In Massachusetts we are distributed through Gilbert Distributors
Contact: Heather at info@gdwine.com, or call 508-835-6011
Gilbert Distributors
240 Shrewsbury Street
Boylston, MA 01505
508-835-6011
gilbertdistributors.com